Education is an Essential Human Right
We believe in the power of education to change lives. Our efforts have brought more than 60 people back to Africa, providing them with a deeper cultural experience. Our commitment to education extends to providing educational opportunities for children, including distributing hygiene kits with washable pads, ensuring over 500 girls in Senegal and The Gambia can attend school without barriers. Additionally, we have provided academic supplies, equipment, and meals for students, ensuring access to quality education for all.
Education is a fundamental pillar of Project Safety Nets, and we are committed to empowering individuals through knowledge and learning. We have forged a long-standing partnership with Cite Radio School for over 15 years to provide quality education to children in underserved communities.
One of our primary initiatives is ensuring students have the necessary school supplies to thrive academically. We understand that school supplies' costs can burden families, especially in disadvantaged areas. Therefore, we provide school supplies to students, alleviating the financial strain and equipping them with the tools they need to succeed in their studies.
Recognizing the essential role of teachers in shaping young minds, we also extend support to educators by providing classroom supplies. These supplies help alleviate teachers' high costs in procuring materials for effective teaching. By easing this burden, we enable teachers to create engaging learning environments that foster student success.
We are dedicated to breaking down barriers to education, including the challenges faced by young girls. In many communities, the lack of menstrual hygiene management resources can hinder girls' ability to attend school regularly. To address this, we provide hygiene kits with washable pads, ensuring that girls can manage their menstrual cycles with dignity and confidence. By countering the stigma associated with menstruation, we empower girls to stay in school and pursue their education without interruption.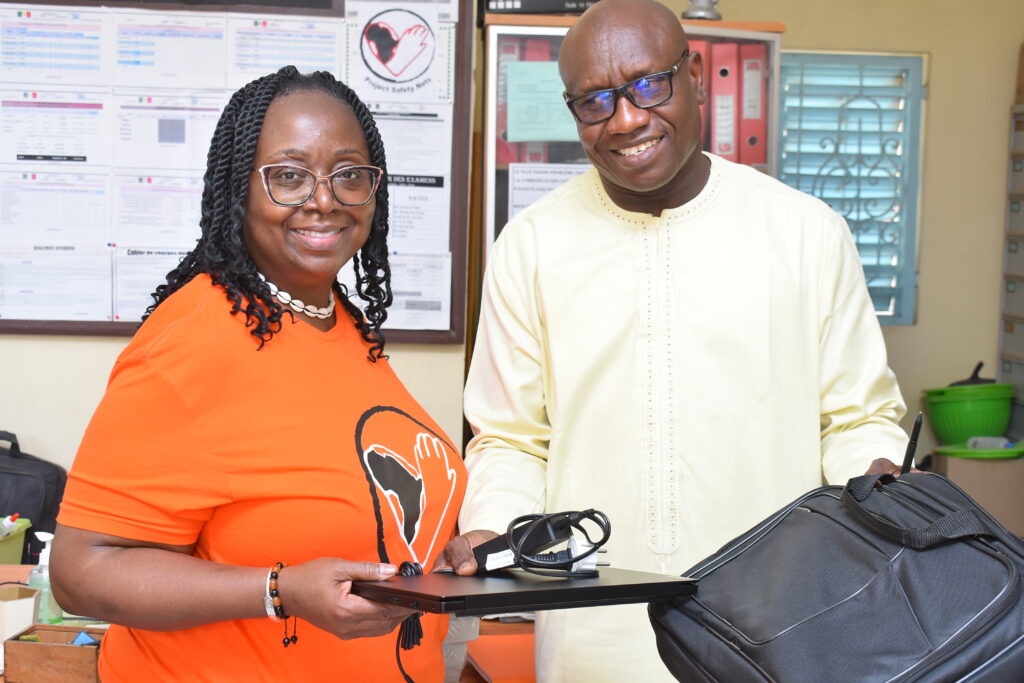 Our commitment to education extends beyond basic supplies. We recognize the importance of digital literacy and access to technology in the modern world. To bridge the digital divide, we provide computers to schools, allowing students to develop critical technology skills and broaden their educational horizons. Additionally, we support young girls in pursuing higher education, aiming to delay or prevent early marriages and enable them to achieve their full potential.
We also focus on reaching out to vulnerable children, particularly those living on the streets. By providing educational supplies, we give these children an opportunity to learn and improve their circumstances. Education can be a transformative force, breaking the cycle of poverty and providing a path to a better future.
To foster cultural connections and promote global understanding, we facilitate pen-pal letter writing between students in the United States and students in Senegal. Through this exchange, young minds from different backgrounds can learn from one another, develop empathy, and broaden their perspectives.
We organize an annual Girls Empowerment Conference, where girls and their mothers come together to explore topics such as self-esteem and preventing violence against women and girls. This conference imparts valuable knowledge and provides a platform for girls to form supportive networks and gain confidence in their abilities.
Ensuring a conducive learning environment is crucial, so we support security measures and proper utilities during the school day. Addressing these infrastructure needs creates a safe and conducive space for students to learn and grow.
We strive to empower individuals with knowledge, skills, and opportunities through our commitment to education. By partnering with schools, providing essential resources, and fostering cultural connections, we positively impact the lives of students, teachers, and communities. Education is a powerful tool for transformation, and we are dedicated to unlocking its potential for every individual we serve.
See More Ways to Get Involved